How green is your dream? Commission for Environmental Cooperation Launches Youth Innovation Challenge
Enter crowdsourcing initiative to compete for C$5,000 in seed funding and personally present your green growth idea to North American environmental leaders in Prince Edward Island, Canada
Montreal, 21 February 2017—Show us what you've got! North American leaders are calling on youth to champion bold ideas for green growth to address the complex sustainability challenges we currently face. Visit <http://cec.ideascale.com/> to submit your science, technology and business innovations and get the chance to pitch your idea to North America's top environmental officials, receive C$5,000 in project seed funding, and meet with experts at the Commission for Environmental Cooperation.
"Not only are youth creative, optimistic and entrepreneurial, they are also going to be most affected by the environmental decisions we make today. We need to harness their bright ideas for feasible, scalable solutions to shared North American environmental problems," said Catherine McKenna, Canadian Minister of Environment and Climate Change and host of the upcoming 2017 Commission for Environmental Cooperation (CEC) Council Session, taking place in Charlottetown, Prince Edward Island, Canada, on June 28.
The Council plans to engage with the challenge winners in person at their annual CEC Council Session.
The crowdsourcing challenge is open to residents of Canada, Mexico and the United States, aged 18-26. Participants are encouraged to look beyond incremental solutions and propose bold ideas to leapfrog to alternatives and solutions that address the complex sustainability challenges facing North America. Ideas will be evaluated based on four criteria: innovation, feasibility, scalability/replicability, and impact. Students and young entrepreneurs are encouraged to share ideas on a broad range of green growth topics, particularly those that can be addressed at the regional level, including mitigating air emissions, reducing food waste and marine litter, mitigating the impact of ocean acidification, and protecting ecosystems from invasive species.
Key dates to consider:
Tuesday, February 21: Challenge begins
Sunday, April 30: Last day to comment and submit ideas
Friday, May 5: Top ideas selected for refinement
Monday, May 22: Full proposals for the top 6-9 ideas are submitted to the judges
Wednesday, June 7: Winning ideas announced
Wednesday, June 28: Winning individuals or group leads present their ideas to top environmental officials in Charlottetown, Canada
This is your chance to make a difference! Start posting your ideas or commenting and voting on those of others today! Ideas can be submitted in English, French or Spanish. The CEC has partnered with Silicon Valley-based innovation firm IdeaScale to host this challenge. For more information and guidelines, visit <http://cec.ideascale.com/>.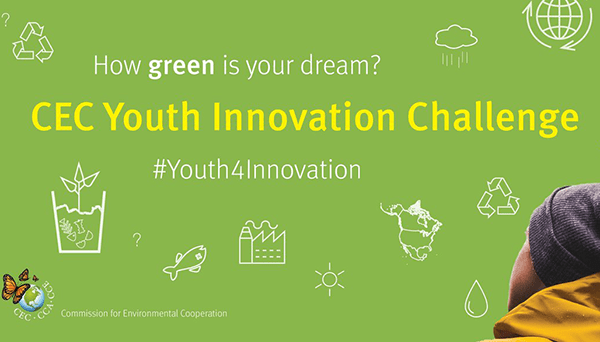 About the CEC
The Commission for Environmental Cooperation (CEC) was established in 1994 by the governments of Canada, Mexico and the United States through the North American Agreement on Environmental Cooperation, a parallel environmental agreement to NAFTA. As of 2020, the CEC is recognized and maintained by the Environmental Cooperation Agreement, in parallel with the new Free Trade Agreement of North America. The CEC brings together a wide range of stakeholders, including the general public, Indigenous people, youth, nongovernmental organizations, academia, and the business sector, to seek solutions to protect North America's shared environment while supporting sustainable development for the benefit of present and future generations
The CEC is governed and funded equally by the Government of Canada through Environment and Climate Change Canada, the Government of the United States of Mexico through the Secretaría de Medio Ambiente y Recursos Naturales, and the Government of the United States of America through the Environmental Protection Agency.