Commission for Environmental Cooperation announces Gustavo Alanís-Ortega as Chair of its advisory committee
Renowned Mexican environmental lawyer Gustavo Alanís-Ortega to lead JPAC in 2018
Montreal, 14 December 2017—The Commission for Environmental Cooperation's (CEC) Joint Public Advisory Committee (JPAC) has unanimously elected Mexican JPAC member Gustavo Alanís-Ortega as committee chair for 2018. He will succeed US JPAC member Robert Varney, former New England regional Administrator of the US Environmental Protection Agency, who served as chair during 2017.
The CEC JPAC is composed of 15 volunteer citizens (five from each of Canada, Mexico and the United States) and advises the CEC Council on any matter within the scope of the North American Agreement on Environmental Cooperation.
Upon learning of his selection, Alanís-Ortega said, "My top priorities as JPAC chair will be to continue supporting environmental cooperation efforts that started 23 years ago in the region; assure as much public engagement as possible from different sectors of society in the work and activities that JPAC will undertake in 2018; make sure, to the best of my ability, that as NAFTA is renegotiated, environmental matters in North America remain front and center; bring before the Council of the CEC the necessary advice to address, in a proper and timely manner, environmental concerns related to North America; and play an important role in the Council meeting that will take place next summer in Oklahoma City, Oklahoma, United States."
A lawyer and university professor at Universidad Iberoamericana in Mexico City, Alanís-Ortega is widely respected in Mexico and abroad for his ability to bring together members of civil society, industry and government on environmental issues. He has worked diligently for more than 25 years with a broad range of domestic and international stakeholders to promote the relevancy, awareness and effective enforcement and compliance of Mexico's environmental laws and regulations. In 1993, Alanís-Ortega founded the Centro Mexicano de Derecho Ambiental (Mexican Environmental Law Center—CEMDA), a public interest environmental law firm based in Mexico City.
A member of the seventh cohort of the Leadership on Environment and Development Program (LEAD), Alanís-Ortega is also active as a columnist for El Universal, one of Mexico's most widely read and influential newspapers; and member of Mexico´s Climate Change Council.
Alanís-Ortega holds a law degree from the Universidad Iberoamericana in Mexico City and a master's degree in international law from the Washington College of Law at American University in Washington, DC. He was most recently appointed to JPAC in December 2012, having previously served twice as committee chair.
A full biography for Alanís-Ortega and additional information about JPAC are available at www.cec.org/JPAC.
Keep up-to-date with the CEC's work by following @CECweb on Twitter and like us on Facebook at www.facebook.com/CECconnect.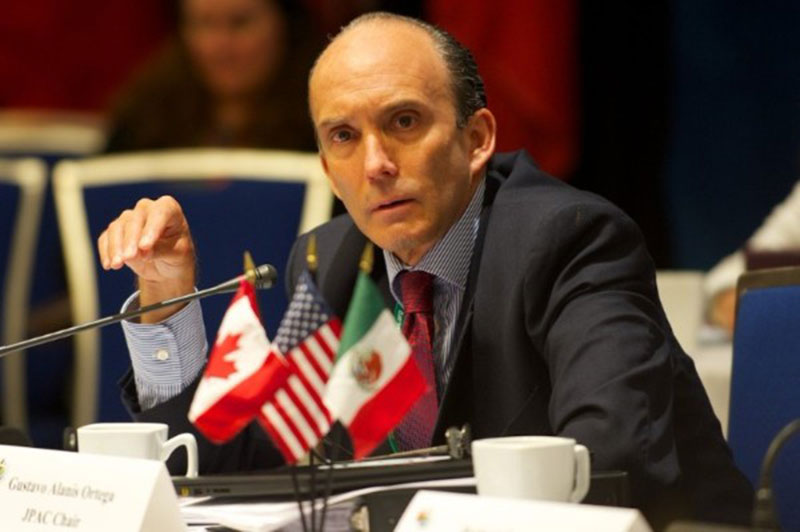 About the CEC
The Commission for Environmental Cooperation (CEC) was established in 1994 by the governments of Canada, Mexico and the United States through the North American Agreement on Environmental Cooperation, a parallel environmental agreement to NAFTA. As of 2020, the CEC is recognized and maintained by the Environmental Cooperation Agreement, in parallel with the new Free Trade Agreement of North America. The CEC brings together a wide range of stakeholders, including the general public, Indigenous people, youth, nongovernmental organizations, academia, and the business sector, to seek solutions to protect North America's shared environment while supporting sustainable development for the benefit of present and future generations
The CEC is governed and funded equally by the Government of Canada through Environment and Climate Change Canada, the Government of the United States of Mexico through the Secretaría de Medio Ambiente y Recursos Naturales, and the Government of the United States of America through the Environmental Protection Agency.