»
»
»
César Rafael Chávez, named executive director of the Commission for Envi...
César Rafael Chávez, named executive director of the Commission for Environmental Cooperation of North America
Montreal, 18 January 2016—The Council of the Commission for Environmental Cooperation (CEC) announces the appointment of César Rafael Chávez as executive director of the CEC Secretariat.
Irasema Coronado, who has completed her three-year mandate as executive director, is returning to her academic position in the Department of Political Science at the University of Texas at El Paso.
The CEC Council members—Canada's Minister of Environment and Climate Change Catherine McKenna, Mexico's Secretary of the Environment and Natural Resources Rafael Pacchiano Alamán, and US Environmental Protection Agency Administrator Gina McCarthy—welcomed Chávez to his new position at the CEC Secretariat.
Chávez has more than 25 years of experience in the environmental field. He was formerly Director General of Environmental Policy and Regional and Sectorial Integration at Mexico's Secretariat of Environment and Natural Resources (Semarnat).
He has a master's degree in urban development and regional planning from the University of Edinburgh, is a graduate of the program in Advanced Studies on Environment and Sustainable Development (LEAD-México) at El Colegio de México, and pursued PhD studies in environmental urban history at the Universidad Iberoamericana.
Chávez's three-year term as CEC Executive Director is effective from 16 January 2016. The full biography and photo is available here.
For more information about the CEC, please visit www.cec.org and connect with us on Facebook at www.facebook.com/CECconnect and on Twitter at @CECweb.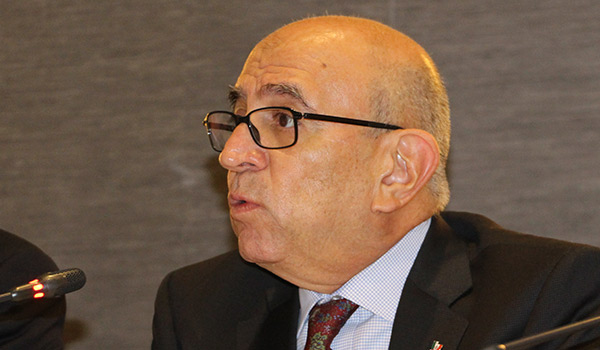 About the CEC
The Commission for Environmental Cooperation (CEC) was established in 1994 by the governments of Canada, Mexico and the United States through the North American Agreement on Environmental Cooperation, a parallel environmental agreement to NAFTA. As of 2020, the CEC is recognized and maintained by the Environmental Cooperation Agreement, in parallel with the new Free Trade Agreement of North America. The CEC brings together a wide range of stakeholders, including the general public, Indigenous people, youth, nongovernmental organizations, academia, and the business sector, to seek solutions to protect North America's shared environment while supporting sustainable development for the benefit of present and future generations
The CEC is governed and funded equally by the Government of Canada through Environment and Climate Change Canada, the Government of the United States of Mexico through the Secretaría de Medio Ambiente y Recursos Naturales, and the Government of the United States of America through the Environmental Protection Agency.