CEC unveils new website to foster monarch butterfly conservation and habitat restoration
Explore our new online toolbox and learn from proven, successful monarch conservation initiatives applied across North America
Montreal, 12 December 2017—The Commission for Environmental Cooperation (CEC) has launched a new website aimed at increasing participation in conservation efforts for North America's most iconic butterfly.
Through the CEC's Monarch Conservation Toolbox, farmers, landowners and the general public can explore best management practices, incentive programs, and pilot projects intended to restore, enhance and manage monarch habitat in Canada, Mexico and the United States, so that they can apply them on the land they own or manage.
The website allows users to:
Find specific tools to guide agricultural practices that help to maintain healthy monarch habitat.
Explore opportunities to receive financial support to create and/or preserve monarch habitat.
Learn from others who have applied monarch-friendly land management practices.
Get involved in monarch conservation efforts.
It is hoped that the North American monarch will benefit from farmers, landowners and land managers using the toolbox to create and preserve the butterfly's habitat throughout its range.
Our work to protect the monarch butterfly
For over two decades, the CEC has supported monarch butterfly conservation work by the three North American countries, which are home to the monarch and its unique and endangered migratory phenomenon. In June 2015, Canada, Mexico and the United States approved a two-year CEC project to promote habitat restoration and enhancement in key breeding grounds and migration corridors of the monarch butterfly.
Through this joint initiative, experts from Environment and Climate Change Canada, Parks Canada, Mexico's Comisión Nacional de Áreas Naturales Protegidas (Conanp), and the US Fish and Wildlife Service helped compile the information available in the Monarch Conservation Toolbox.
Building on the results of our 2015-2016 project, the three countries recently approved a new project, Science for Monarch Butterfly and Pollinator Conservation, as part of the CEC's 2017-2018 cooperative work program.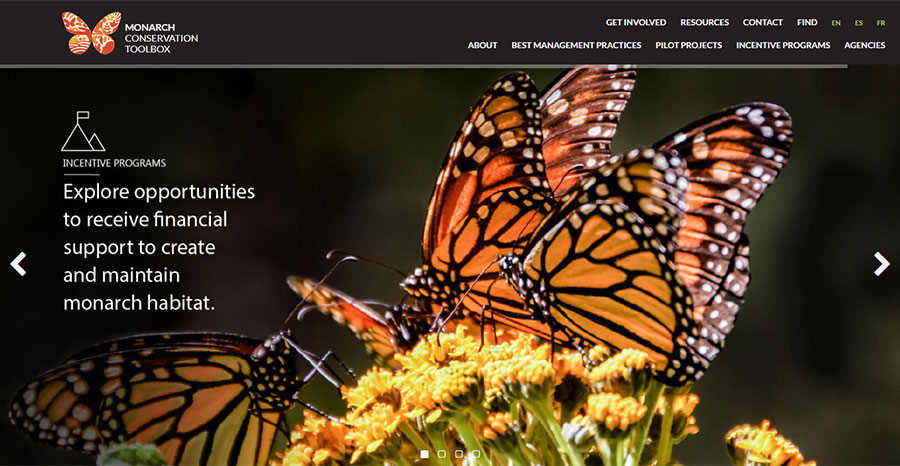 About the CEC
The Commission for Environmental Cooperation (CEC) was established in 1994 by the governments of Canada, Mexico and the United States through the North American Agreement on Environmental Cooperation, a parallel environmental agreement to NAFTA. As of 2020, the CEC is recognized and maintained by the Environmental Cooperation Agreement, in parallel with the new Free Trade Agreement of North America. The CEC brings together a wide range of stakeholders, including the general public, Indigenous people, youth, nongovernmental organizations, academia, and the business sector, to seek solutions to protect North America's shared environment while supporting sustainable development for the benefit of present and future generations
The CEC is governed and funded equally by the Government of Canada through Environment and Climate Change Canada, the Government of the United States of Mexico through the Secretaría de Medio Ambiente y Recursos Naturales, and the Government of the United States of America through the Environmental Protection Agency.