»
»
»
CEC launches video series to celebrate North American monarch conservati...
CEC launches video series to celebrate North American monarch conservation efforts
Collaboration across three countries is key to preserving the monarch and its unique migratory phenomenon
Montreal, 22 December 2016—The Commission for Environmental Cooperation (CEC) announces today the release of the video series Collaborating to Conserve: The Monarch Butterfly, featuring leading conservation experts from across North America who describe their cooperative efforts to protect monarch butterfly habitats.
Every fall, millions of monarchs undertake a spectacular migration from southern Canada and the central and northeastern United States to forested areas in central Mexico. A smaller population found west of the Rocky Mountains migrates to groves along the coast of California.
Over the last twenty years, both the eastern and western overwintering populations have declined drastically, highlighting the need to reinforce collaboration at the continental level and encourage North American citizens to join monarch monitoring and conservation efforts.
The CEC's new short film series, produced in collaboration with Environment and Climate Change Canada, Parks Canada, Mexico's Comisión Nacional de Áreas Naturales Protegidas (Conanp), and the US Fish and Wildlife Service, aims to inform the general public about the vital role of trinational cooperation in preserving the monarch butterfly and its migratory phenomenon.
Click here to view the video series. All six videos are available in English, French and Spanish.
Our work to protect the monarch butterfly
Since 2007, the CEC has supported monarch butterfly conservation work by the three North American countries, which are home to the monarch and its unique and endangered migratory phenomenon. The CEC has two monarch initiatives underway as part of its current cooperative work program.
For more information on the CEC's innovative work on monarch butterfly conservation, visit www.cec.org/monarch or contact Lucie Robidoux, CEC Ecosystems and Sustainable Communities Program Manager, at lrobidoux@cec.org.
Keep up-to-date with the CEC's work by following @CECweb on Twitter or like us on Facebook.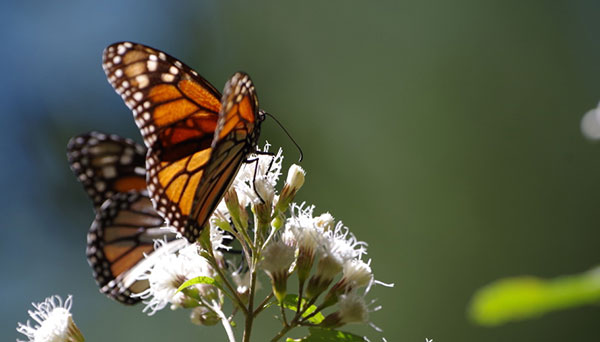 About the CEC
The Commission for Environmental Cooperation (CEC) was established in 1994 by the governments of Canada, Mexico and the United States through the North American Agreement on Environmental Cooperation, a parallel environmental agreement to NAFTA. As of 2020, the CEC is recognized and maintained by the Environmental Cooperation Agreement, in parallel with the new Free Trade Agreement of North America. The CEC brings together a wide range of stakeholders, including the general public, Indigenous people, youth, nongovernmental organizations, academia, and the business sector, to seek solutions to protect North America's shared environment while supporting sustainable development for the benefit of present and future generations
The CEC is governed and funded equally by the Government of Canada through Environment and Climate Change Canada, the Government of the United States of Mexico through the Secretaría de Medio Ambiente y Recursos Naturales, and the Government of the United States of America through the Environmental Protection Agency.