»
»
»
CEC joins Montreal's International Environmental Organizations to ...
CEC joins Montreal's International Environmental Organizations to celebrate the city
Montreal, 4 August 2017—On 15 June 2017, Montreal's leading international environmental organizations gathered at the Montreal Botanical Garden for a networking event to mark the city of Montreal's 375th anniversary as well as Canada's host status for this year's World Environment Day.
For the first time, representatives of the Commission for Environmental Cooperation (CEC), the United Nations Secretariat of the Convention on Biological Diversity (UNCBD), Future Earth, the Secretariat of the Montreal Protocol, and the International Civil Aviation Organization (ICAO), came together to pay homage to the metropolis.
César Rafael Chávez, Executive Director of the CEC; Cristiana Paşca Palmer, Executive Secretary of the UNCBD; Jane Hupe, ICAO's Air Transport Bureau Deputy Director, Environment; Eduardo Ganem, Chief Officer for the Multilateral Fund for the Implementation of the Montreal Protocol; and Christina Cook, Science Officer at Future Earth Global Montreal Hub, took the floor to highlight the link between their respective organizations and the green, vibrant, cosmopolitan city of Montreal.
In his address to the assembled guests, Executive Director Chávez noted that the choice of Montreal as CEC Secretariat headquarters in 1994 has greatly benefited the Commission in attracting and retaining international staff and, he believed, has also contributed to the international character of the city.
To mark the occasion, Réal Ménard, representing Montreal Mayor Denis Coderre, signed the city's declaration of its commitment to the Mayors' Monarch Pledge. By signing the pledge and moving to put its promises into effect, Montreal has become the first municipality in Quebec to proclaim itself a "monarch-friendly" city.
The celebration—which attracted over 100 distinguished guests—was an excellent opportunity to meet and network with representatives from international environmental organizations, Montreal's diplomatic community, as well as academic, government and civil society actors with expertise in the environmental sector.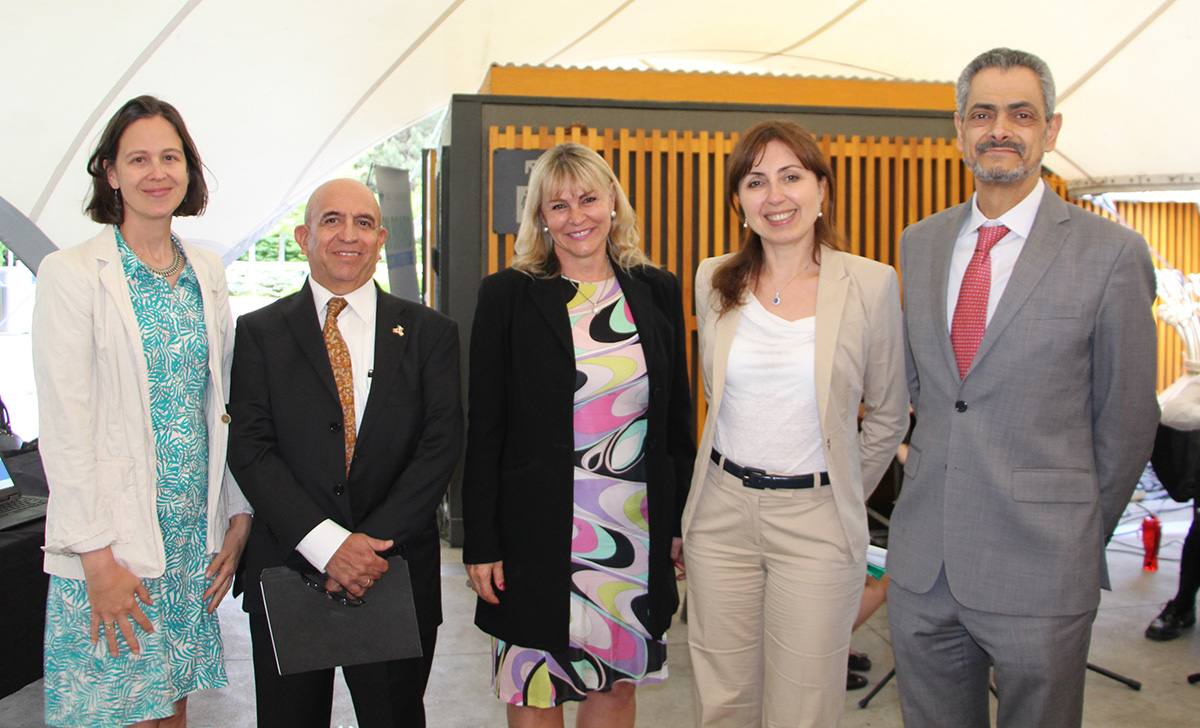 About the CEC
The Commission for Environmental Cooperation (CEC) was established in 1994 by the governments of Canada, Mexico and the United States through the North American Agreement on Environmental Cooperation, a parallel environmental agreement to NAFTA. As of 2020, the CEC is recognized and maintained by the Environmental Cooperation Agreement, in parallel with the new Free Trade Agreement of North America. The CEC brings together a wide range of stakeholders, including the general public, Indigenous people, youth, nongovernmental organizations, academia, and the business sector, to seek solutions to protect North America's shared environment while supporting sustainable development for the benefit of present and future generations
The CEC is governed and funded equally by the Government of Canada through Environment and Climate Change Canada, the Government of the United States of Mexico through the Secretaría de Medio Ambiente y Recursos Naturales, and the Government of the United States of America through the Environmental Protection Agency.