»
»
»
CEC EJ4Climate Grant Program Awards $2M for Environmental Justice
CEC EJ4Climate Grant Program Awards $2M for Environmental Justice
Montreal, 14 March 2023—The North American Commission for Environmental Cooperation (CEC) has announced 14 climate-focused projects that will each receive up to C$200,000 under the CEC's EJ4Climate (Environmental Justice and Climate Resilience) Grant Program.
Initiated by the US Environmental Protection Agency (EPA), the EJ4Climate Grant Program provides funding directly to community-based organizations for projects that target underserved and vulnerable communities, and Indigenous communities, in Canada, Mexico and the United States, to prepare them for climate-related impacts.
"We are proud of this second edition of the EJ4Climate Grant Program. We received very thoughtful and action-oriented applications from across North America and the selection was definitely not easy," said Violaine Pronovost, Grant Programs Coordinator at the CEC Secretariat. "In line with this year's theme, priority was given to projects that integrate formal or informal community-led environmental education approaches, such as hands-on activities and place-based learning, community science initiatives, knowledge exchanges with elders, training and capacity building, and more."
The EJ4Climate selection committee selected the 14 grant recipients from more than 330 proposals. The projects were evaluated on specific criteria, such as the degree of community involvement and partnerships, implementation planning, and measurable objectives over the course of the project life cycle.
Building on the strong and successful results of the 2021-22 cycle, here are the 2022-23 EJ4Climate recipients:
Canada
Organization: Isla Urbana
Project name: One Water: An Indigenous-led Process to Increase Water Resilience for First Nations in Ontario through Rainwater Harvesting
Location: Ontario (Canada) and Oaxaca-Jalisco (Mexico)
Organization: Stqeeye' Learning Society
Project name: Snuw uy ulh tuna tumuhw (Teachings of the Land): Reconnecting Youth with Indigenous Land Stewardship Practices and Traditions
Location: British Columbia
Organization: SCBC Stewardship Centre for BC Society
Project name: From One Sea to Another: Building Community Coastal Resilience in British Columbia and Nova Scotia
Location: British Columbia and Nova Scotia
Organization: International Secretariat for Water
Project name: Preserving Akwesasne Native Biodiversity for the Future
Location: Ontario and Québec
Mexico
Organization: Consejo Totonaca de Organizaciones y Comunidades
Project name: Modelo Totonaco de Aprendizaje Comunitario del Katuxawat (cultivar vida) para la Equidad Ambiental
Location: Veracruz
Organization: Asesoría Social Productiva, A.C.
Project name: Voces del río: Gestión Comunitaria del Agua para la Resiliencia en el Territorio Nahua-hidalguense
Location: Hidalgo
Organization: Tuumben Kooben, S.C. de R.L. de C.V.
Project name: Mujeres Mayas Promotoras de Energía Solar
Location: Quintana Roo
Organization: Fundación Ambiental del Valle del Yaqui, A.C.
Project name: Escuelas para la vida agroecológica: resiliencia de ecosistemas rurales del Valle del Yaqui
Location: Sonora
Organization: Central de Servicios para el Desarrollo de Puebla, A.C.
Project name: Saneamiento de Aguas Residuales y Reducción de Contaminación por Agroquímicos e Inundaciones Mediante Soluciones Naturales, Comunitarias y Educativas
Location: Puebla
United States
Organization: Borderlands Restoration Network
Project name: Building Multinational Climate Resilience through Cross-Border Shared Learning in Mexico, United States, and Tohono O'odham Nation
Location: Sonora (Mexico) and Arizona (US)
Organization: Mālama Loko Ea Foundation
Project name: Restoring Ea
Location: Hawaiʻi
Organization: Big Valley Band of Pomo Indians
Project name: Collaborative Community Research and Action to Build Climate Change Resiliency on California's Largest Lake
Location: California
Organization: Organización Pro Ambiente Sustentable
Project name: Resilient Schools Consortium: Transforming Puerto Rico's Schools into Hubs for Climate Resilience Education and Solutions
Location: Puerto Rico
Organization: Conservation Northwest
Project name: Supporting Cultural and Climate Resilience for Eastern Washington Tribes through Cultural Burning and Landscape Restoration
Location: Washington
Learn more about the EJ4Climate grant program, all grant recipients and the work they are doing to address the impacts of climate change by visiting our website.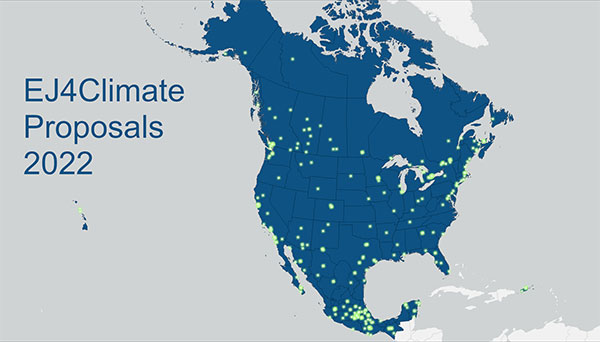 About the CEC
The Commission for Environmental Cooperation (CEC) was established in 1994 by the governments of Canada, Mexico and the United States through the North American Agreement on Environmental Cooperation, a parallel environmental agreement to NAFTA. As of 2020, the CEC is recognized and maintained by the Environmental Cooperation Agreement, in parallel with the new Free Trade Agreement of North America. The CEC brings together a wide range of stakeholders, including the general public, Indigenous people, youth, nongovernmental organizations, academia, and the business sector, to seek solutions to protect North America's shared environment while supporting sustainable development for the benefit of present and future generations
The CEC is governed and funded equally by the Government of Canada through Environment and Climate Change Canada, the Government of the United States of Mexico through the Secretaría de Medio Ambiente y Recursos Naturales, and the Government of the United States of America through the Environmental Protection Agency.