»
»
»
Enhancing Co-benefits of Marine Protected Areas
Enhancing Co-benefits of Marine Protected Areas
Status: Active
Operational Plan: 2021
Project Duration: 36 months months
Start date: December 1, 2021
The marine environment is inherently connected and transboundary in nature, causing threats to biodiversity to have impacts at local, regional, and global scales. Climate change has increased the need for collaboration across seascapes, as climate change impacts can affect the distribution and movement of species and cause habitat shifts. Marine Protected Areas (MPAs) are key to conserving and restoring coastal and marine ecosystems, delivering many natural and socio-economic co-benefits. Strengthening collaboration and capacity across MPAs in North America has been an ongoing priority for the CEC. Previous work has included the development of tools to identify vulnerabilities in coastal and marine ecosystems and develop targeted adaptation strategies. Building on this past work, the current project aims to support the development of an ecologically and socially inclusive network of MPAs for the benefit of coastal and marine ecosystems, coastal communities, and a more resilient North America. Recognizing the leadership role of Indigenous and local communities in the management and conservation of coastal and marine areas, the project aims to increase Indigenous and local community engagement in North American MPA networks. The project will provide opportunities for knowledge sharing and capacity building to enhance the role of coastal and marine protected areas as nature-based solutions for climate adaptation and mitigation, while ensuring socio-economic co-benefits to fisheries, tourism, and other sectors.
To find out more about this project, here is the complete project description.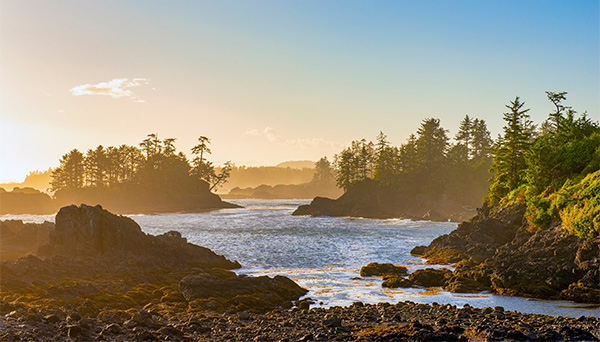 Issues
Marine and coastal ecosystems face threats including ocean warming, extreme weather events, and habitat shifts, which can negatively impact ecosystems and communities.
Inclusive, adaptive, and collaborative management of MPAs is needed to ensure the resilience of marine ecosystems and coastal communities.
Aim
The CEC is working to strengthen adaptive capacity, increase seascape-level collaboration, and elevate Indigenous leadership to build a more resilient MPA network across North America.
Deliverables
New tools communicating good practices and examples of climate change adaptation in shared seascapes
New tools and capacity-building opportunities to support the conservation and restoration of blue carbon and other critical habitats in a changing climate
Indigenous-led knowledge sharing session on marine conservation, and a resulting capacity-building activity to address self-identified gaps and opportunities
Capacity-building sessions in two pilot seascapes to support adaptive and connected MPA networks
For more information about this project or to partner with us, contact:
Lucie Robidoux
Head of Unit, Ecosystems
(514) 350-4311