Sustainable Ecosystems and Resilient Economies through Mariculture (SEREM)
Organization: Native Village of Eyak
Guided by Tribal Council, NVE provides services to tribal members in a manner acceptable to Alaska Native cultural values and traditions to enhance the wellbeing of our People physically and spiritually.
Location: Cordova, Alaska. Native Village of Eyak, Coastal communities of the Prince William Sound and Copper River Delta
Country: United States
Other Organizations Involved: Ocean Rainforest, U.S. Coast Guard, Alaska Railroad Corporation, Local fishermen

Active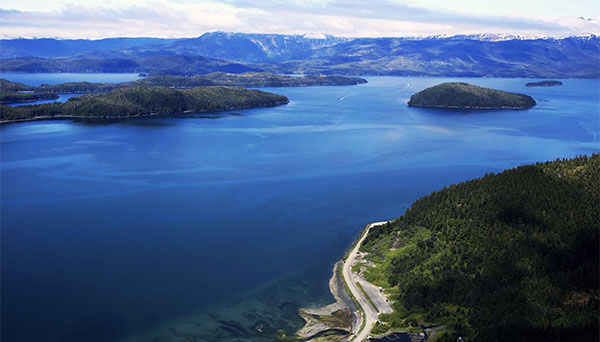 ©Native Village of Eyak
Background
The Native Village of Eyak (NVE), a federally recognized Alaskan tribe, has experienced economic challenges associated with oil spills, climate change, and ocean acidification (OA) in the Prince William Sound; the traditional waters of the Eyak people. Warming waters and OA have contributed to the decline in traditional foods and economic drivers in the region. Kelp mariculture may mitigate OA by absorbing carbon dioxide. No fertilizers, pesticides, or herbicides are required to grow kelp. Feed created from the carbon sequestering kelp grown in Alaska has the added benefit of greatly reducing methane emissions when fed to livestock. The additional ecosystem services provided by kelp farms and economic benefits for our tribal members include building habitat for marine life and food security for our isolated community. NVE has an opportunity to become the leaders of a resilient new industry that may mitigate climate change and will create innovative blue jobs for our tribal members.
Goals
The SEREM program will 1) develop a sustainable mariculture program to aid in the economic resilience of our tribe and facilitate carbon sequestration in the Prince William Sound, Alaska; 2) construct our kelp farm from reclaimed materials to reduce landfill occupancy and prevent these materials from adding to the marine debris crisis; and 3) create a mariculture tribal youth program to provide job training opportunities to tribal youth as they will one day be the backbone of the Blue Economy in PWS.
Main activities
Our first growing season and the start of this program will be this Fall 2022 when the kelp farm, a series of longlines with kelp seedlings attached, is deployed. Kelp will grow throughout the winter. Harvest will take place the following Spring 2023. Through our partnerships we will use refurbished buoys, lines, and anchors to construct the farm. During these activities, our Tribal Youth Council will aid our mariculturalists every step of the way to learn how to grow kelp in rural Alaska.
Outcomes
The result of these efforts will be several tons of edible sugar and ribbon kelp grown by our mariculturalists and newly experienced group of tribal youth. A portion of this kelp will go to NVE's food security programs for distribution to tribal members and elders. The remainder will be processed for livestock feed with the aid of our partners at Ocean Rainforest to help reduce greenhouse gas emissions associated with terrestrial agriculture. All proceeds will be reinvested into the SEREM program.