»
»
»
Seeding the Future – Adaptation to Climate Impacts through Healthy...
Seeding the Future – Adaptation to Climate Impacts through Healthy Ecosystems and Traditional Plants in the Piikani First Nation
Organization: The Resilience Institute
Our mission is to co-create resilient futures and reduce risks to disasters. We achieve this by developing educational and participatory research initiatives that weave local and cultural knowledge with scientific and technical expertise.
Location: Piikani Nation Reserve, Brockett, Alberta
Country: Canada
Other Organizations Involved: Tannas Conservation; Piikani Nation Lands; Up North on Climate, Laurentian University

Active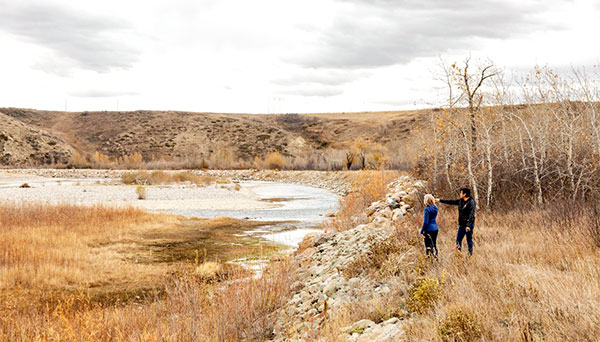 ©Dylan Leeder, the Good Planet Project
Background
Natural habitats in the Piikani Nation are vulnerable to climate impacts which will exacerbate already stressed environments due to changes in water flow from external dams, overgrazing of traditional lands, and western farming practices. Increasing climate resilience will strengthen Piikani's culture and autonomy and result in decreased dependency on external agencies. Through our project, we aim to develop a sustainable and flourishing ecosystem encompassing secure water, energy, and food scenarios.
Goals
This initiative exemplifies active reconciliation with Indigenous Peoples and how trusted partnerships can strengthen capacity to advance climate goals at the local and global level. At a local level, activities will promote hands-on learning will result in community readiness for land restoration and increased biodiversity.
Main activities
Building on extensive community feedback on climate risks and adaptation strategies, we will co-create a series of community relevant communication materials to increase awareness and action.
Delivering educational workshops leading to a 'Bison Management Plan' As a key contributor to ecological resilience, bison have the ability to increase ecological health and both climate adaptation and mitigation strategies.
Hands-on opportunities for Lands technicians and youth in developing local capacities for resilience through the revitalization of native grasslands, activities that enhance biodiversity, and in bringing together western and Blackfoot ways of knowing to better understand the carbon sequestration properties of sweetgrass – an important cultural plant.
Collect & share good practices in weaving Indigenous and Western knowledge systems.
Outcomes
Seeded with traditional plants the Piikani reserve will begin its journey to resilience. Participation of community members in strategies that build momentum skills and capacity to further develop and implement their plans to address climate impacts from multiple, synergistic approaches. This project will benefit all Nation members (those living on the Piikani Nation reserve in southern Alberta, a First Nation reserve of ~3,600 as well other Indigenous communities through North America, their partners and allies.