»
»
»
Marsh Restoration at Grand Bayou Indian Village
Marsh Restoration at Grand Bayou Indian Village
Organization: Common Ground Relief
The organization fosters environmental and community stewardship in Southeast Louisiana, so that residents can survive and thrive, now and in the future.
Location: Grand Bayou Indian Village, Plaquemines Parish, Louisiana
Country: United States
Other Organizations Involved: Coastal Re-Vegetation Program of the Louisiana Department of Agriculture and Forestry, First Peoples' Conservation Council (FPCC) of Louisiana.
Active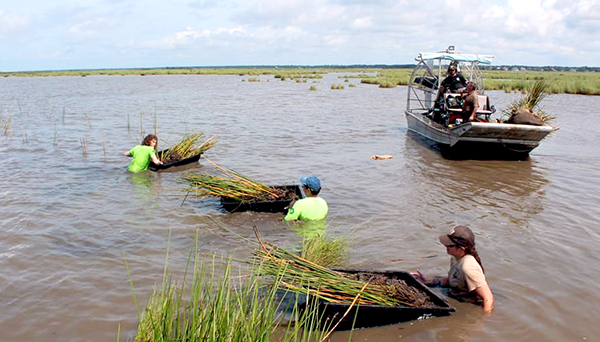 © Sam Van Pyrkeren
Background
In the past several decades, Grand Bayou Indian Village ("Grand Bayou"), where many Atakapa-Ishak/Chawasha tribal members live, has lost a significant amount of land due to a combination of manmade interventions, low elevation, land subsidence, and climate change. These disasters have stripped the community of essential defenses against storm surge and flooding, as well as vital economic, cultural, and social resources.
Louisiana's Comprehensive Master Plan for a Sustainable Coast ("Coastal Master Plan") guides the actions needed to sustain the coastal ecosystem, safeguard coastal populations, and protect Louisiana's economic and cultural resources, in the face of threats to Louisiana's coastal communities. The 2017 Master Coastal Plan essentially ignores Grand Bayou – offering no protection or solutions. Because Grand Bayou is outside the protection of the state's levee systems, there are no resources or a long-term vision to help the community remain an intact village as the surrounding wetlands continue to erode. Nor are there any recommendations for relocation, which may be the only option for the Grand Bayou community. Because the Atakapa-Ishak/Chawasha tribal community lacks federal recognition, members were not included in planning discussions for the 2017 Coastal Master Plan. As a result, they do not have access to resources that enable the community to become resilient to the effects of climate change, subsistent, and sustainable for future generations.
Grand Bayou faces multiple obstacles in its fight for ecological survival and environmental justice. Marsh Restoration at Grand Bayou Indian Village will support the Atakapa-Ishak/Chawasha tribal members in their efforts to mitigate the impacts of coastal land loss and climate change.
Goals
Marsh Restoration at Grand Bayou Indian Village will combine Common Ground Relief's resources – native grasses, volunteer labor, programmatic coordination, and relationships with relevant state entities – with Grand Bayou's expertise and knowledge to:
create living shorelines by planting 6,000 plugs of smooth cordgrass, a salt-resistant native marsh grass along damaged shorelines and in newly flooded land;
establish plans for sustained plantings that the Grand Bayou community can undertake beyond the term of the grant; and
support ongoing dialogues between the Grand Bayou community, planting partners, and local, state, and federal agencies to address the impacts of climate change and environmental racism.
Main activities
Host 6 community engagement events over 2 years in order to plan and evaluate plantings and gather narratives for the digital media storytelling project.
Host 4 marsh grass planting volunteer events to install the living shoreline and protect 2.5 miles of shoreline.
Outcomes
Plant 6,000 plus of marsh grass, restoring 2.5 miles of shoreline.
Engage 10 community members at each of 6 events to identify culturally significant sites, plan planting events, and evaluate planting events.
Produce a locally-led digital media storytelling project about the history of land loss and climate change in Grand Bayou Indian Village and the role of living shoreline installations as an accessible solution.