»
»
»
Increasing the flood resilience of lower Fraser First Nations communitie...
Increasing the flood resilience of lower Fraser First Nations communities, while rebuilding damaged salmon habitats
Organization: Watershed Watch Salmon Society
Our mission is to defend and rebuild B.C.'s wild salmon, along the water and in the community. Over vision is: Thriving wild salmon runs across B.C. forever.
Location: The cities of: Hope, Agassiz, Chilliwack, Abbotsford, Pitt Meadows, Surrey, Delta, Port Coquitlam, Coquitlam. Thirty-one Mainland Coast Salish (Indigenous) communities located in the Fraser River floodplain.
Country: Canada
Other Organizations Involved: Active project partners: First Nations Emergency Planning Secretariat, Resilient Waters (a project of MakeWay Canada); Other partners include: Farmland Advantage, Lower Fraser Fisheries Alliance (Indigenous organization) and Floodplains by Design (Washington State); Academic partner: University of British Columbia (Kees Lockman, Chair, School of Landscape Architecture)
Active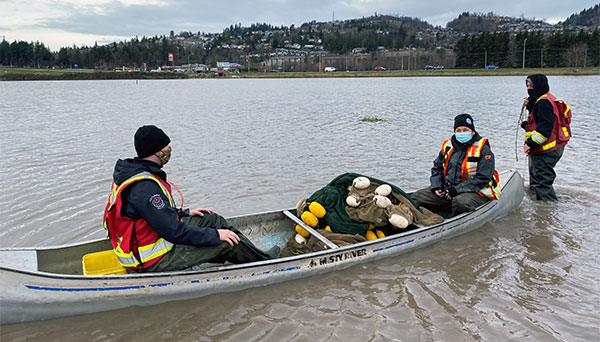 ©Murray Ned
Background
Our proposed project will build on an existing major project, called "Resilient Waters" (see www.resilientwaters.ca), that is identifying key flood control sites where fish passage and fish habitat can be restored.
The desired result is to ensure that government flood management strategies, flood infrastructure upgrades and associated habitat restoration works find solutions that address the needs and priorities of First Nations alongside other community and sectoral values, while improving salmon habitat.
Goals
Assess Indigenous (Mainland Coast Salish) flood risk values in B.C.'s Lower Mainland and identify appropriate priorities and techniques for risk reduction.
Increase knowledge-sharing and collaboration among technical experts, local and provincial government staff and managers, and First Nation partners for improved flood management solutions that incorporate ecosystem, Indigenous, agriculture and other values. Output: a Best Management Practices report to guide future flood management efforts in the lower Fraser and other regions of British Columbia.
Assist with improving First Nations capacity to address flood risk and management in their territorial lands, and providing space for First Nations to lead in disaster resilience.
Increase First Nations, agriculture sector, conservation sector and public participation in relevant provincial government strategies that are under development (Flood Management Strategy, Climate Preparedness & Adaptation Strategy, Watershed Security Strategy and Wild Salmon Strategy), and infrastructure decisions, in order to properly recognize and incorporate the needs of First Nations, agriculture and the floodplain ecosystem.
Main activities
Workshops to explore the different aspects of floodplain resilience and planning; engage communities to define risk from a First Nations context.
Produce a Best Management Practices report with recommendations.
Assessment of priority areas of risk for risk reduction in the B.C.'s Lower Mainland based on Mainland Coast Salish values and traditional ecological knowledge. Assessments of risk reduction techniques, including analysis of which ones are supported by local First Nations and how they can be applied.
First Nations, agriculture sector and conservation sector promote key recommendations from BMP report and Indigenous workshops (described above) in consultations around BC Flood Strategy, BC Climate Preparedness and Adaptation Strategy, BC Watershed Security Strategy and/or BC Wild Salmon Strategy (where timing of consultation schedules aligns with timing of report and workshop outputs).
Educate public audiences about opportunities and solutions to address diverse values in modernized floodplain management.
Outcomes
Create new norms for flood and floodplain management. The positive impacts that are expected to carry on past the life of this grant cycle include:
Regulatory, policy and program reforms (including through BC Flood Management Strategy) that ensure flood mitigation projects and upgrades provide effective flood safety while also addressing First Nations, ecological, agricultural and other diverse values.
Improvements to governance towards a collaborative flood management model that empowers First Nations and includes social and environmental values.
Updates to provincial and federal funding models, programs and criteria to ensure flood mitigation funding criteria consider diverse values.
Improved relationships that enhance the ability to collaborate and build trust between local governments and First Nations.