Community Mangrove Restoration and Regenerative Ecotourism
Organization: Fondo Oaxaqueño para la Conservación de la Naturaleza
We work with communities to conserve Oaxaca's biodiversity by promoting local initiatives that are climate change-resilient, improve livelihoods and generate community-based science.
Location: Littoral of Oaxaca, La Ventanilla
Country: Mexico
Other Organizations Involved: Lagart Real Cooperative, Fomento Social Citi Banamex, Inter-American Foundation, Conafor
Active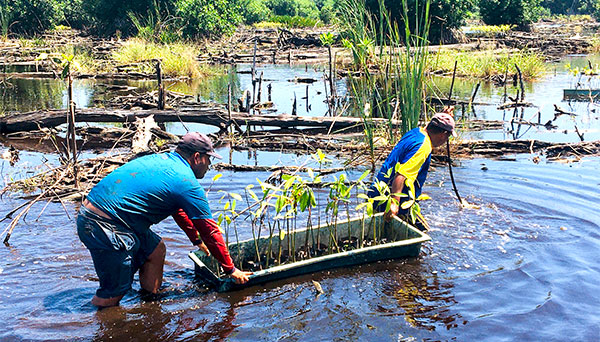 © Fondo Oaxaqueño para la Conservación de la Naturaleza
Background
The Mexican state of Oaxaca is the most vulnerable to phenomena of climate change because of its geographical location between the Pacific Ocean and the Gulf of Mexico.
In 2012, Hurricane Carlotta devastated around 80% of the Ventanilla Lagoon's mangroves forests, thereby leaving this community's population bereft of both protection and its principal sources of income—ecotourism and fishing, not to mention the loss of biodiversity. In response, the members of the Lagarto Real Cooperative undertook the arduous task of rehabilitating and reforesting the lagoon ecosystem by producing red mangrove seedlings and planting them under very difficult conditions.
In 2016, they succeeded in ensuring the Mexican authorities' approval of their management plan for the community reforestation of 57 ha of mangrove forest.
This project proposes to reforest an additional 2 ha and to link this initiative with the elaboration of community ecotourism activities such as bird watching and the lagoon's reforestation.
Goals
Ensure recovery of biodiversity in Laguna de Ventanilla.
Develop an environmental education module on the effects of climate change and the importance of coastal wetlands.
Generate a tourist attraction initiative consistent with continuation of reforestation and biodiversity conservation activities.
Ensure the keeping of a local wildlife registry.
Main activities
Identify ideal sites for the reforestation of 2.4 ha of red mangroves.
Produce 1,582 red mangrove seedlings.
Construct firebreaks.
Rehabilitate mangrove channels.
Reforest 2.4 ha of red mangrove.
Conduct training on bird watching tourism and bird banding.
Install a camera trap for biodiversity monitoring.
Outcomes
Reforestation of 2.4 ha of red mangrove by community forest rangers.
Production by community forest rangers of 1,582 seedlings in a community plant nursery.
Acquisition by community forest rangers of skills required to monitor endemic and migratory birds.
Educational activities on the effects of Climate Change and the importance of coastal wetlands.
Mitigation of forest fires and protection of biodiversity.
Organization of a mangrove festival with the participation of various communities and mangrove experts.