»
»
»
EcoInnovation Network – Transition
EcoInnovation Network – Transition
Status: Active
Operational Plan: 2021
Project Duration: 24 months
Start date: December 1, 2021
Innovation centers play a key role in sustainable economic development and job creation within and beyond the communities they serve. A key feature of the innovation centers is to provide inclusive and equal access to students and the public to capitalize on training, tools and resources for innovation, sustainable design, entrepreneurship, and business development and sustainable innovation for students and communities in North America. In 2019, the CEC launched the EcoInnovation Network (EIN) to promote the creation and interconnection of innovation centers at academic institutions across North America and provide tools for youth and communities to further green growth through entrepreneurship, innovation and sustainable design.
To find out more about this project, here is the complete project description.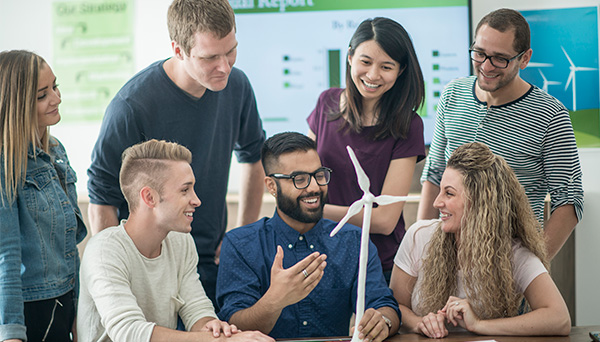 Issues
The CEC's 2019–2020 EcoInnovation Network project successfully established the Network's core membership, developing foundational and strategic documents and coordinating activities that built rapport among the members and young entrepreneurs and informed the development of useful resources and tools.
The COVID-19 pandemic, however, prevented the project from reaching its full potential and achieving self-sustainability.
As a last activity of the 2019–2020 project, a transition plan was developed to create a path for moving the Network to a new host institution. As a result of these discussions, the University of Waterloo (Ontario, Canada) came forward in March 2021 with a proposal to pay for a 2/3's full-time equivalent (FTE) employee to serve as a manager at the University of Waterloo, and to make additional financial and in-kind contributions.
During this Second tranche Project the CEC Secretariat will support and ensure the proper transition of the Network's financial, operational and governance responsibilities from the Commission to the University of Waterloo. In addition, the Secretariat will support the operations of the EcoInnovation Network during the two-year transition period.
Aim
This follow-up project is intended to create a financially independent and sustainable EIN by 30 June 2023, transferring the financial, operational and governance responsibilities of the Network from the CEC to the EIN members, partners, and the managing institution, and build the necessary operational and financial capacity for the Network to continue its efforts in the future.
Deliverables
An EcoInnovation Network, independent of the CEC, with renewed and strengthened membership, that has a sound framework and strategy and that operates within a governance scheme led by the University of Waterloo during its initial period of self-sustainability.
A CEC/EIN partnership that provides for a link between the CEC and the Network, and that contributes to strengthening each other's mandate, particularly with respect to supporting different youth initiatives and addressing sustainability, entrepreneurship and innovation topics.
Support for the implementation of the EIN workplan and activities.
Increased dissemination and visibility of the EIN and its activities through outreach efforts and in partnership with other organizations.
Related Projects
Operational Plan 2019 - 2020
For more information about this project or to partner with us, contact:
Armando Yáñez Sandoval
Head of Unit, Green Growth
(514) 350-4337