Terrestrial Protected Areas, 2008
Map type: Terrestrial Ecosystems
This map shows the protected areas of North America that are managed by national, state, provincial, or territorial authorities.
As defined by the International Union for the Conservation of Nature (IUCN), a protected area is an "area of land and/or sea especially dedicated to the protection and maintenance of biological diversity, and of natural and associated cultural resources, and managed through legal or other effective means."
This map shows protected areas categorized according to their management objective, based on IUCN's classification system, as follows:
Strict nature reserve/wilderness area (managed mainly for science or wilderness protection)
National park (managed mainly for ecosystem protection and recreation)
Natural monument (managed mainly for conservation of specific natural features)
Habitat/species management area (managed mainly for conservation through management intervention.
Protected landscape/seascape (managed mainly for landscape/seascape protection and recreation)
Managed resource protected area (managed mainly for sustainable use of natural systems)
Unknown: Primary management objective is not known
Note that additional protected areas under local or private management are not shown on this map.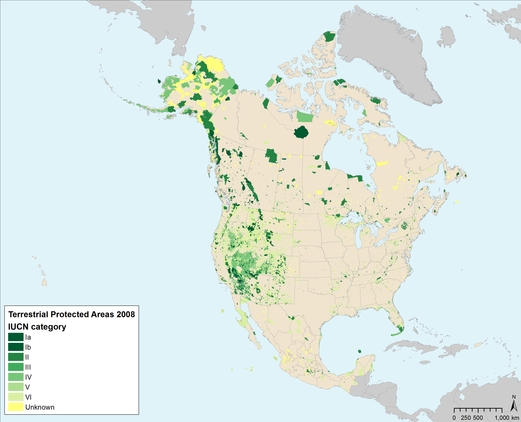 Description and metadata