North American Protected Areas, 2017
Map type: Terrestrial Ecosystems
This map shows the protected areas of North America that are managed by national, state, provincial, or territorial authorities. It was updated in September 2017 with the most recent marine and terrestrial protected area data from the Canadian Council on Ecological Areas (CCEA) and the Quebec Ministry of Sustainable Development, Environment and the Fight against Climate Change (Ministère du developpement durable et de la lutte contre le changement climatique) for areas in Canada; the National Commission of Natural Protected Areas (Comisión Nacional de Áreas Naturales Protegidas ‑ Conanp) and the Nature Conservancy for areas in Mexico; and the Protected Areas Database (PAD-US Partnership) for areas in the United States.
As defined by the International Union for the Conservation of Nature (IUCN), a protected area is an "area of land and/or sea especially dedicated to the protection and maintenance of biological diversity, and of natural and associated cultural resources, and managed through legal or other effective means." This map shows protected areas categorized according to their management objective, based on IUCN's classification system, as follows:
Strict nature reserve/wilderness area (managed mainly for science or wilderness protection)
National park (managed mainly for ecosystem protection and recreation)
Natural monument (managed mainly for conservation of specific natural features)
Habitat/species management area (managed mainly for conservation through management intervention)
Protected landscape/seascape (managed mainly for landscape/seascape protection and recreation)
Managed resource protected area (managed mainly for sustainable use of natural systems)
Note that additional protected areas under local or private management are not shown on this map.
Data Source:
Canada
Mexico
The Nature Conservancy (TNC) Mexico: Bezaury-Creel J.E., J. Fco. Torres, L. M. Ochoa Ochoa. 2007. Base de Datos Geográfica de Áreas Naturales Protegidas Estatales del Distrito Federal y Municipales de México – Versión 1.0, Agosto 30, 2007. The Nature Conservancy / Pronatura A.C / Comisión Nacional para el Conocimiento y Uso de la Biodiversidad / Comisión Nacional de Áreas Naturales Protegidas. 6 Capas ArcGIS 9.2 + 4 Capas Goggle Earth KMZ + 1 Archivo de Metadatos Word.
USA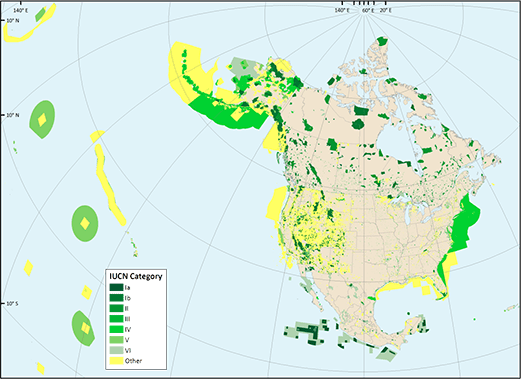 Description and metadata